Special Visit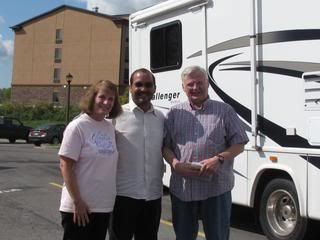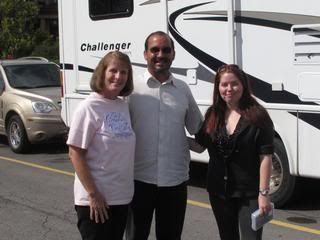 (I'm standing away from Don a bit because of the shadows, Kevin was directing us to take two steps forward, and one step back, etc!)
Today we drove down to Syracuse, New York, to meet up with Kevin's friend Don, and his wife, Sandi, who were passing through in their motorhome from California. Kevin was very excited to see Don since it had been about 12 years since he had seen him last. Don and Sandi are traveling through most of the U.S. on this trip, stopping at various places along the way. You can visit their blog to learn about their adventures, here
We had lunch and a great visit, it was great to meet them and be able to spend a little time with them in the middle of their big journey. They had just come from the American side of Niagara falls....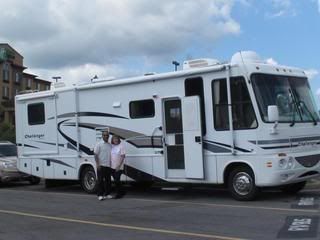 Then we headed to the mall to try find a dress for me, for Kevin's daughter's upcoming wedding. That was a bust. Shoes, I enjoy shopping for even though I only ever get to wear sneakers and rubber boots, but dresses.... well, I'd rather be in the barn than in the mall.
It was cool last night, it went down to about 54 degrees Fahrenheit. Izzie got a new halter because her old one is too small now, Kevin has to punch a few more holes in the new one for me so we can get it to fit properly on her for now, and she'll able to grow quite a bit with the new one. She is not lead trained yet, and this is going to be a huge project. Cows are not like sheep and goats. People thinks goat are stubborn. Get a cow. Then decide who is worse. Goats are quite easy to train, especially when bottle raised. Calves and cows, not so much. It will be a chore.
I wanted to share this recipe I tried out the other night with you all, since it's a really good one. You can find the recipe here
I changed a couple things as usual... because I didn't have it or didn't want to use it. I didn't want the minced garlic in my sauce, so I didn't use it. I didn't have orange peel but I had some juice, so I used that. You can use either one to suit your taste. Please take my word these are good. And they are crispy but not fried, baking them is a great way to get the flavor but not all the other bad stuff that comes along with frying.
All for now folks. There are five Prairie dogs who need cleaning and feeding.