Pastrami Stuffed Rye Buns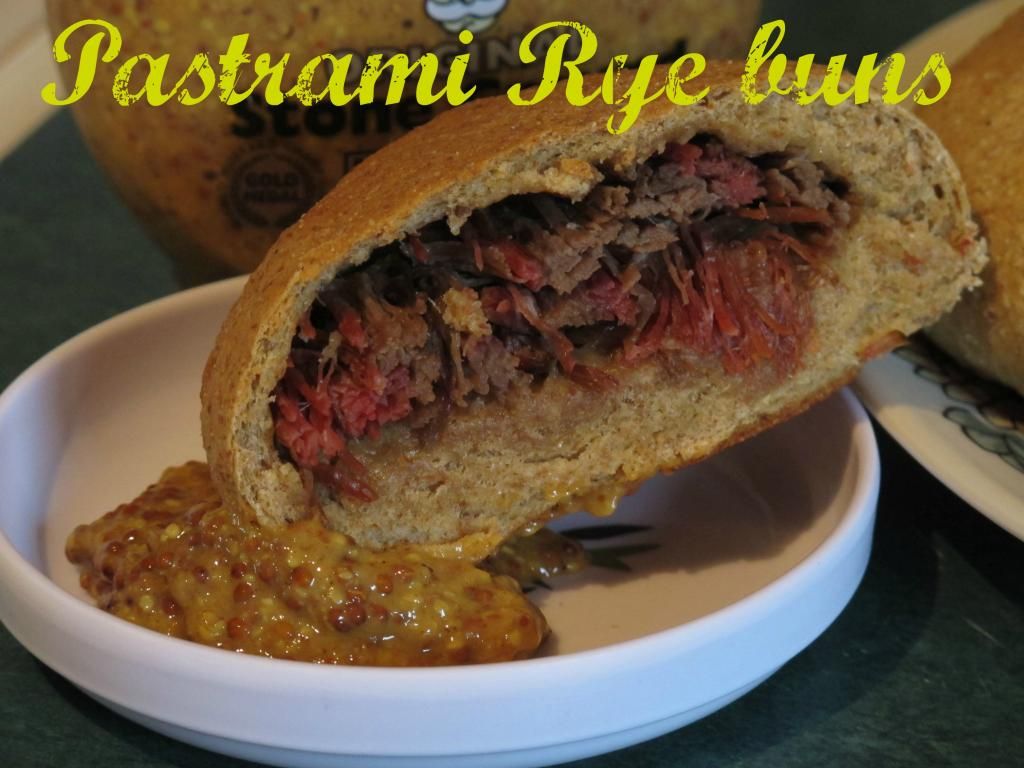 The past few days have involved a lot of lying down for me, in between chores. I managed to make two batches of cheese yesterday and pickle a dozen eggs to help process some of my eggs and milk which are backing up without me able to do my usual amount of cooking.
You know it's bad when I'm opening a can of soup for dinner. It takes a lot to keep me from cooking. Two days after abdominal surgery I was in the kitchen making Shepherds pie, and then roasting a whole duck, and not because I was feeling great, because I'm stubborn and I don't like to miss meals. I don't advise you to do that, but this is me... I'm happiest in the barn and the kitchen.
So today I over did it, but it's fine... I'll rest now. I made 4 batches of chocolate chip oatmeal cookies, 2 loaves of multi grain bread, hot German Potato salad, a big batch of blueberry crumb muffins, and these Rye buns stuffed with Pastrami.
I made the Pastrami yesterday. Our wonderful little grocery store in the village has begun making freshly smoked meats, and for us and a few other customers they make nitrate free versions. Bacon, Pastrami, smoked sausages. It's been awesome. Kevin is deathly allergic to nitrates and it's been a long time since he's had a lot of these meats. A while ago we bought half of a whole pastrami, so we have a few packages frozen which I pull out and steam at 275 F for 5-7 hours until it's falling apart tender. It's delicious. I wanted to try something new and fun and came up with the idea of making a Rye bread and filling it up with Pastrami. I almost couldn't sleep last night waiting to try out this idea.
It turned out really yummy. We dipped them in whole grain mustard and hot out of the oven these buns are sooo good. But this recipe adapted from a Russian Rye bread recipe makes awesome buns on it's own, and nice loaves of bread too.
If you can't get a big chunk of freshly smoked Pastrami, you can use regular sliced.
Russian Rye Bread

5 tsp active dry yeast
1 cup of warm water
1/4 cup dark corn syrup
1/4 cup molasses
2 tsp salt
2 cups all purpose flour
2-2 1/2 cups rye flour
The original recipe used all corn syrup but I love the color, texture and taste, a little molasses gives this bread.
In a large bowl, sprinkle your yeast into your warm water and let sit 10 minutes.
Once the yeast is awake, add in your corn syrup, molasses and salt. Then add your all purpose flour and stir. Start adding your rye flour, mixing after each cup. If you need to add a little extra water, do so a Tbsp full a time, until you have a nice workable consistency. Knead your dough until it's smooth and elastic and then place it in a large greased bowl. Cover it with a clean kitchen towel and let rise for an hour.
*If you'd like to make this bread in a loaf pan, or as buns not stuffed, preheat your oven to 350 degrees F. Shape into buns, or split dough in half and put in two greased loaf pans, cover again and let rise 1 more hour until doubled.
Then bake in the oven, for buns 15-25 minutes (depending on size) and for a loaf, 35-40.

Pastrami Rye buns
Separate your dough into smaller balls. I was able to make 9 buns. You don't want to make them too small.
Take each ball of dough and using your fingers press it into a disc shape. Once you feel it's big enough to put the filling in the middle and still seal the bun, place some of your pastrami in the middle of the disc and then start closing the circle to seal the dough. I just roll it with my hand to form a new, sealed ball, with the pastrami safely sealed inside.
When all your buns are sealed, place on a baking sheet and cover again with your kitchen towel to let double in size.
Bake in a 350 degree F oven for 30 minutes, until nicely browned.
Serve hot with your favorite mustard for dipping.