Bagels For Breakfast!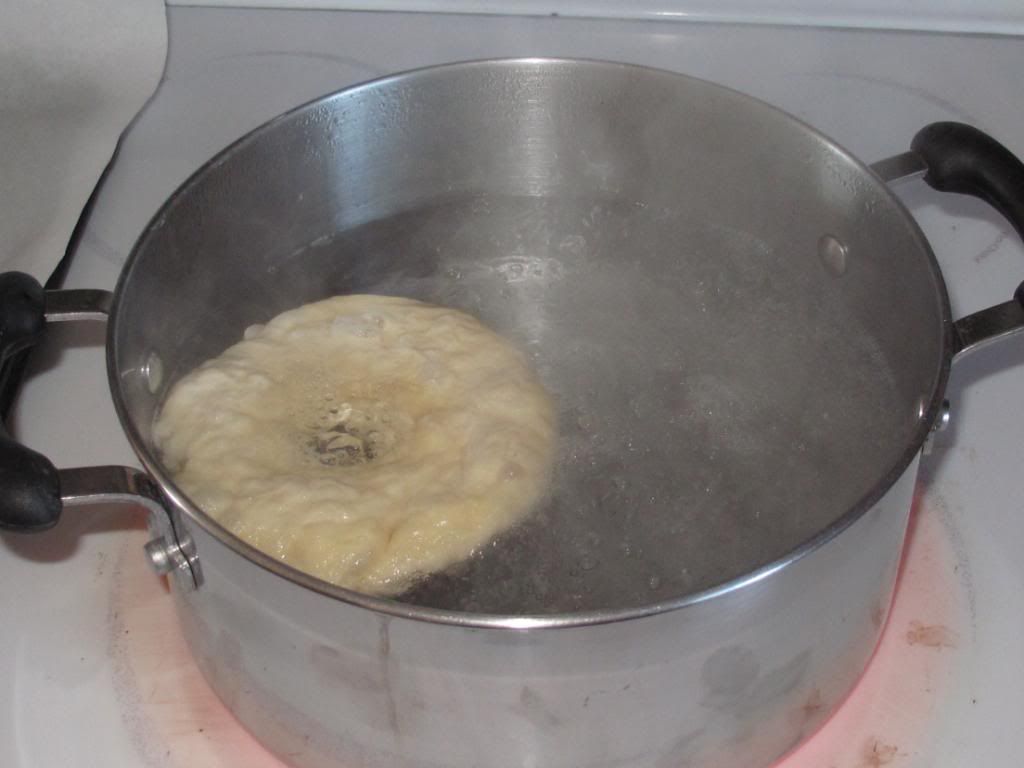 So since I'm feeling a little better but still under a no lifting over 5 pounds, don't over do it, don't drive Kevin crazy by not listening, policy, I decided it's time to get serious about cooking. Once I'm better and back to chores full time, I'll have less time to make a big mess in the kitchen.
I started by making bagels.
I've been wanting to try making bagels for sometime but haven't had any time to try it out. Bagels are a 2 day operation. I was kind of afraid to get into the bagels for two reasons, 1) the amount of work 2) the fact that I may love my own homemade bagels and want them all the time.
I used my bread makers apprentice book for this recipe. I did everything as I was told except I did not have any instant yeast, so I just activated my traditional yeast.
I started by making the "sponge"and much to my surprise it rose in two hours like it was suppose to! So I finished making the dough by adding more yeast and flour and then kneading for ten minutes - it needs a lot of kneading.
Once I made my bagel shapes, I did the handy little trick of putting the bagel in water to see if it floats to the top within 10 seconds, and it worked! It was so neat. I didn't take a lot of pictures while I was making them because I was so focused on not messing it up!
Away into the fridge they went until this morning when I pulled them out and finished them off.
You boil them, and then bake them in the oven.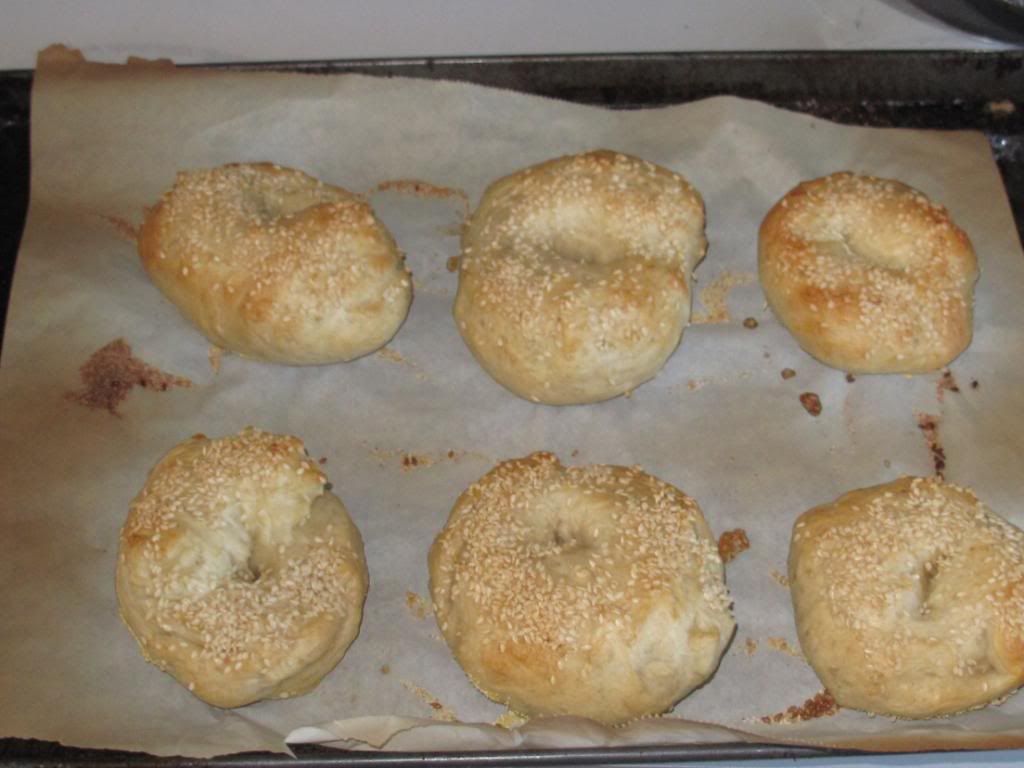 We toasted ours this morning and put peanut butter on them.
They are actually quite easy, just time consuming. But they are so worth it, the texture is great and they taste like real bagels! If you want to give them a try, here's a good how to.
Because two of my recipes for this week required buns, I made a batch of those first and instead of making my usual ones I tried this recipe for the "Best hamburger buns" from Canadian Living.
Best Hamburger buns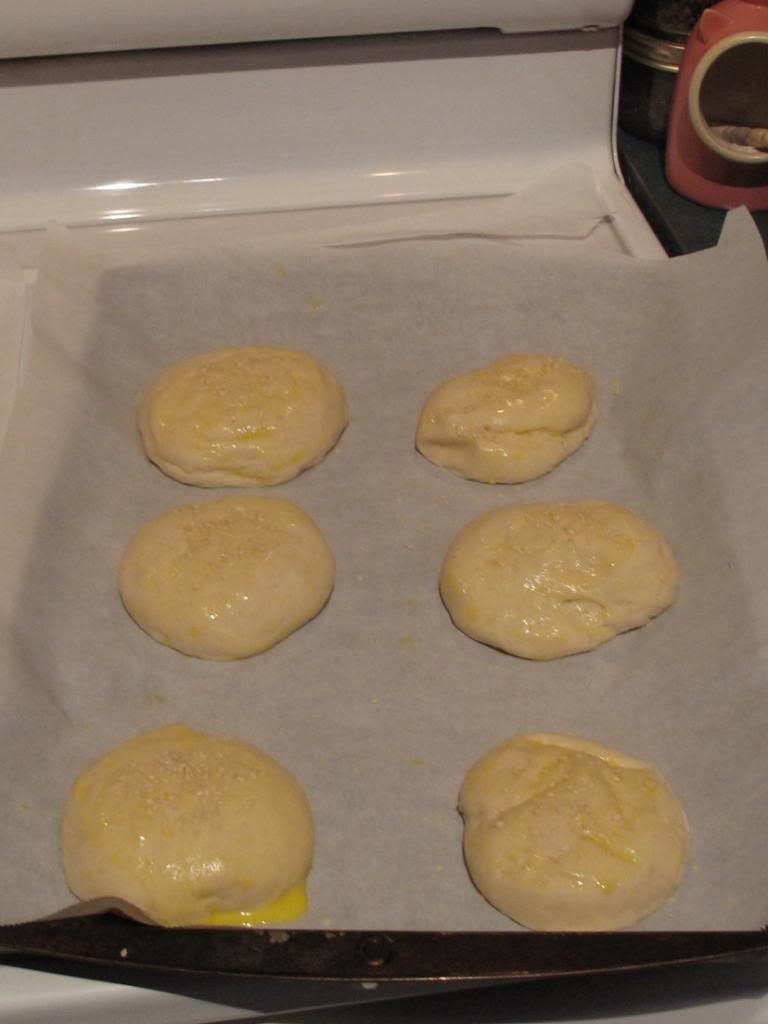 Ingredients
2 tbsp granulated sugar
1 cup cupwarm water
1 pkg active dry yeast, (or 2-1/4 tsp)
1 cup milk
2tbsp butter
1-1/2 tsp salt
5 cups all-purpose flour, approx
1 egg yolk
Sesame seeds, (optional)
Preparation:
In large bowl, dissolve 1 tsp of the sugar in warm water. Sprinkle yeast over top; let stand until frothy, about 10 minutes.
Meanwhile, in saucepan, heat milk, remaining sugar, butter and salt over low heat just until butter is melted; let cool to lukewarm. Add to yeast mixture.
Using electric mixer, beat in 3 cup of the flour, 1 cup at a time, until smooth. Using wooden spoon, stir in enough of the remaining flour to make stiff dough.
Turn out onto lightly floured surface. Knead, adding more flour if necessary to prevent sticking, until smooth and elastic, about 10 minutes. Place in greased bowl, turning to grease all over. Cover with plastic wrap; let rise in warm draft-free place until doubled in bulk, 1 to 1-1/2 hours.
Punch down dough; turn out onto lightly floured surface. Roll into log and divide into 16 pieces; shape each into ball, stretching and pinching dough underneath to smooth tops. Place, 2 inches apart, on greased baking sheet; flatten slightly. Cover and let rise in warm draft-free place until doubled in bulk, 30 to 60 minutes.
Whisk egg yolk with 1 tbsp water; brush gently over tops; sprinkle with sesame seeds (if using). Bake in centre of 400°F oven until golden and buns sound hollow when tapped on bottoms, 20 to 25 minutes. Transfer to rack; let cool. (Make-ahead: Freeze in airtight containers for up to 1 month.)
They turned out really well, and this was a painless recipe, I'll be making these more often.
We had BBQ pulled pork for dinner on those buns last night. It was great.
Yesterday it snowed most of the day leaving us with a covering of snow over the ground. The farrier came and both horses were so good, they behaved like angels. Jack only tried to bite him in the rear end once! And Wrambler fell asleep.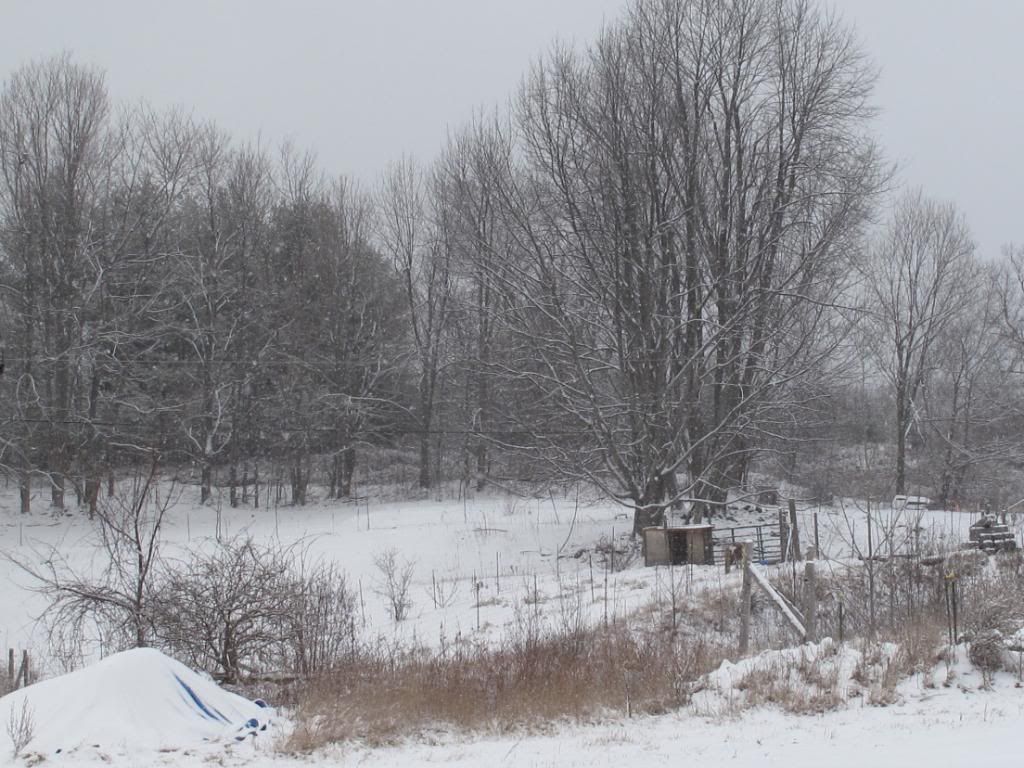 So far the deer are still holding their antlers, I thought maybe today was the day since it had snowed, they like to drop them when there is no snow, and then the snow buries them so they are super difficult to find! But so far no one has lost any antlers.
I made these quick roasted chickpeas too, they make a great little snack. I liked them but no one else did. You just take a can of chickpeas and drain it, rinse them off good and then mix them with some spices, whatever you'd like really, I used Paprika and Cayenne. Then you spread them out on a cookie sheet and bake them at 400 degrees Fahrenheit for about 30 minutes or until dried and crispy. They are nice healthy little snack.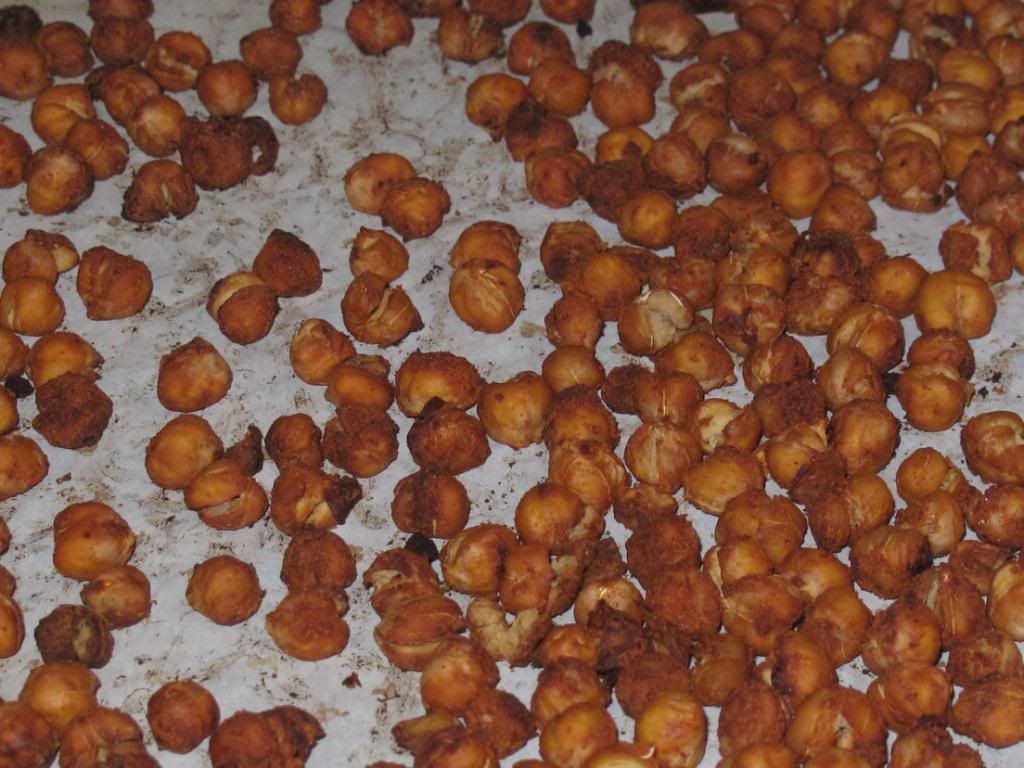 Today we went out for a bit and I ended up a little stressed out. So when I got home after I cooked dinner, I went up to the barn in the dark to spend some time with the dogs, and, goats, and, rabbits. I gave everyone a late snack and then sat in Sammy's pen. It always, always makes me feel better.
On the walk home (the barn is about 300 feet from the house) Flavious walked with me right beside me, and we stood and looked at the stars together. It's a cold and crisp night so they were shining bright. Max was off chewing on his new bone.
Back at the house, Dale and I had a snuggle.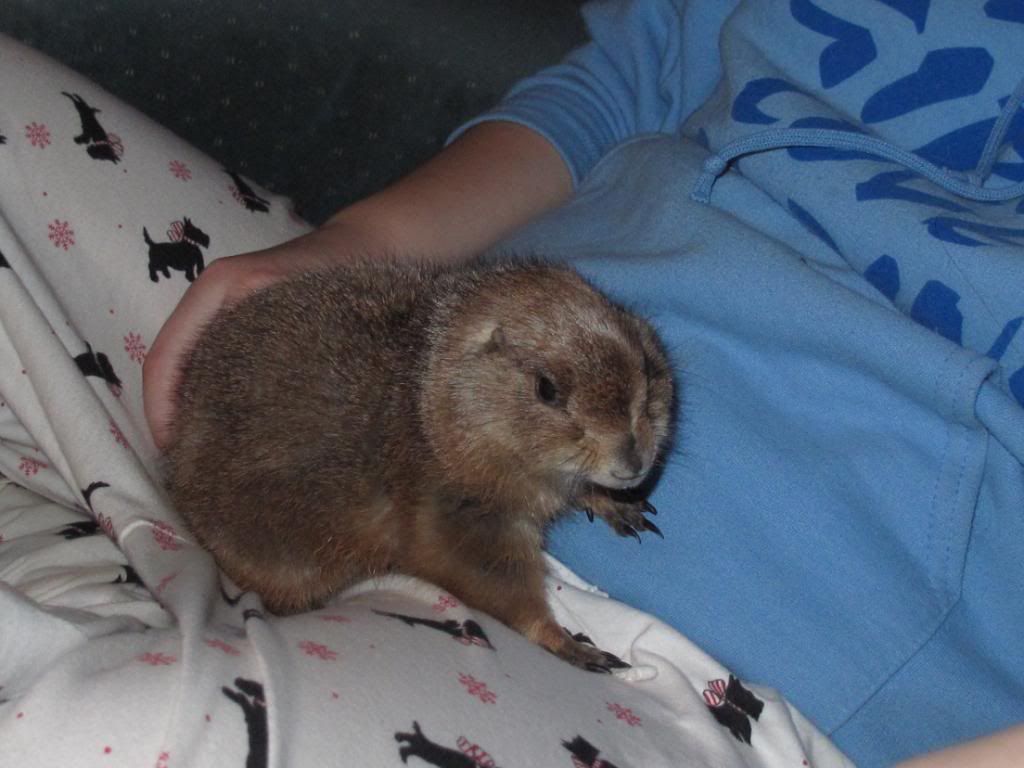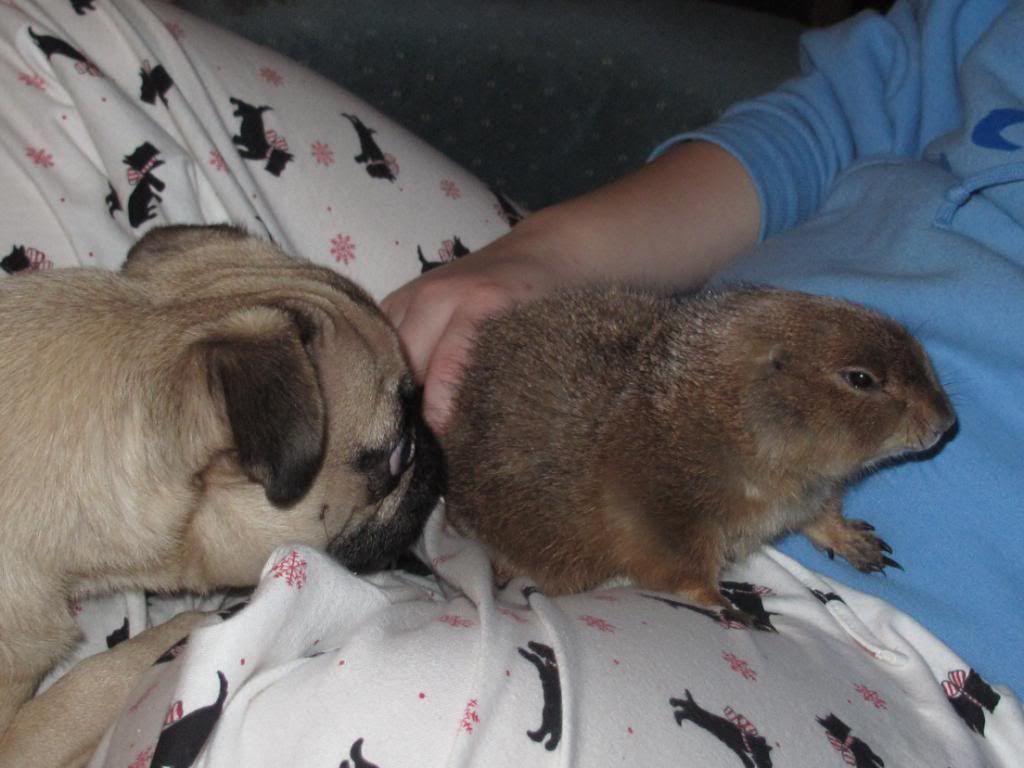 While the dogs sat by the fire.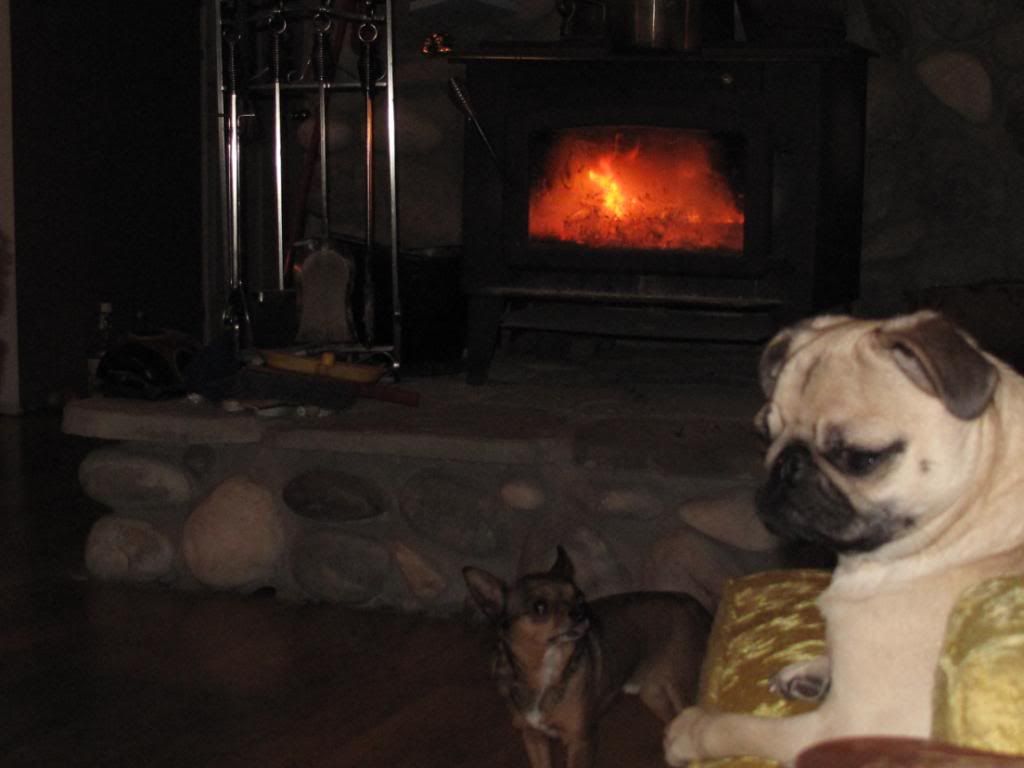 Kevin got his new computer so he's quite happy. We ordered the parts for the mule and have to go to New York State to pick them maybe on Friday. It will be nice to get out, although I wish we didn't have to go so far. I'm just looking forward to dinner at Cracker Barrel!